Action item at bottom of blog!
It's important to note Monica Montgromery wasn't on the city council when the streetlights were approved, also important to mention Mara Elliott (San Diego City Attorney) owns stock in GE. Apparently Elliott never told the Mayor and City Council of the mass surveillance capabilities. Monica is now leading the effort to rein in the city's use of surveillance with the Trust SD Coalition, with support of Gómez (City Council President) calling for the complete defunding of the smart streetlights program.
You can find an interactive map of these smart streetlights here: https://sandiego.maps.arcgis.com/apps/webappviewer/index.html?id=8d8dcd752def4b55be402fca2760b7a3
Rewind, on these smart streetlights:
General Electric offers to loan $30 million so that the city can retrofit thousands of its streetlights with GE technologies. The law enforcement accessibility to devices are known to city officials, no questions asked. Devices rolled out across the city, officials and their financial partners in the private sector tout the ability of the sensors.
August 2018, SDPD pulls footage in connection to a grisly murder in the Gaslamp with the permission of city managers.
November 2018, SDPD start informing the City Council of their access to the streetlights, months after that first scenario.
March 2019, SDPD rethinks policy for technology long after it's been deployed. They note that the footage automatically deletes itself after five days. The cameras are only aimed in public rights of way. The equipment can't pan or tilt and can't recognize faces or license plates.
June 2019, Capt. Jeff Jordon gives a presentation to the Public Safety Committee explaining how SDPD is accessing the devices. (Insisting investigators are only looking for footage in connection with the most serious crimes. Determined on an individual basis, to protect the loss of life and property.)
September 2019, Activists hold a rally outside City Hall to urge the mayor to hit pause on the program… City Council members Gómez, Montgomery and Ward — echo that request in a statement of their own.
January 2020, Mara Elliott (City Attorney) holds a press conference near a memorial for a security guard who had been shot and killed. Streetlight footage led to the arrest of two men, she said. She calls the technology a game-changer for law enforcement.
The following day, the Public Safety Committee spikes new rules for the streetlights proposed by the Sustainability Department, which is now overseeing the program, and instead gets to work on a more comprehensive ordinance that'll extend to all technologies in the possession of the city. Gómez and Montgomery ask Elliott to step aside and allow outside legal counsel to review the surveillance ordinance they intend to draft because Elliott already "holds a distinct policy position on the matter."
February 2020, A city manager says the smart streetlights program is plagued by cost overruns, lax supervision and a lack of properly-trained staff.
May 2020, The Sustainability Department gets an ear full from members of the City Council that they're interested in making financial cuts to the program, possibly shutting it down for good. With that said, The mayor responded by proposing to dramatically shrink the program and place its funding source under the Community Parking District budget.
June 2020, In late May and early June, civil demonstrations take place across the region over the unequal and unjust treatment of Black Americans. The access log later reveals that SDPD went looking for evidence in connection to crimes allegedly committed by protesters. That includes a number of vandalism and property damage cases, as well as reported assaults on officers. In one incident, a man is accused of aiming a laser pointer at a police helicopter. He's now being charged in federal court. (Let that sink in) Jordon has confirmed that SDPD sometimes shares streetlight camera footage with outside law enforcement agencies.
July 2020, The Public Safety Committee is expected to begin debating the merits of the surveillance ordinance that governs the use and acquisition of new devices. It's also considering the creation of a privacy advisory commission made up of community members and "subject-matter experts." That means people who specialize in civil rights law, auditing and accounting, and encryption security. No politicians. No police.
Source: Jesse Marx of VoiceOfSanDiego.org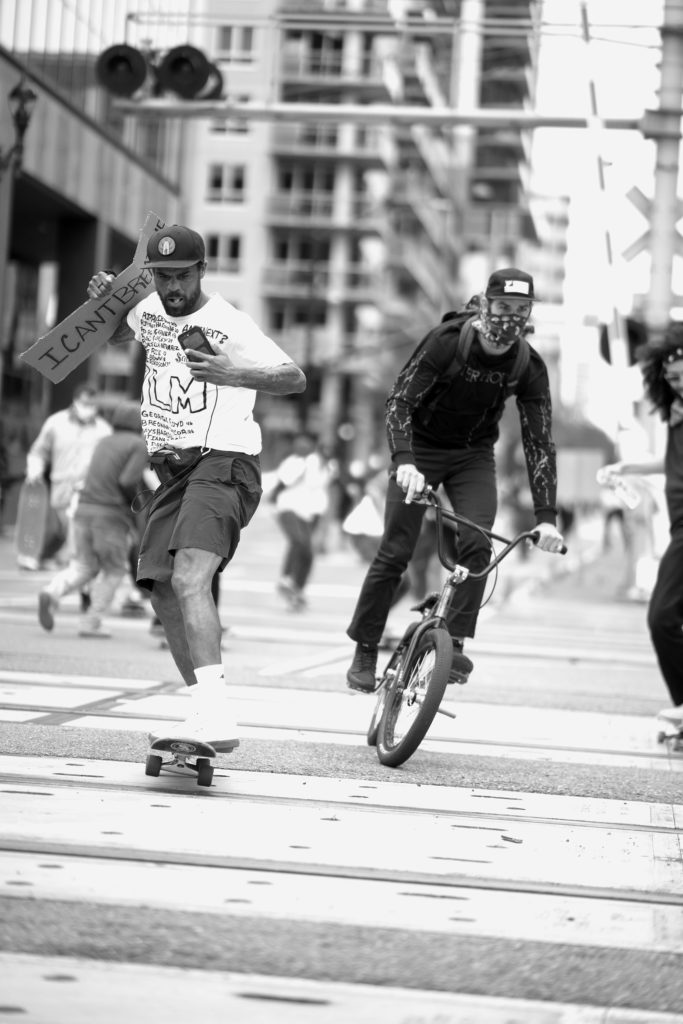 San Diego paid $30 million for the contract. General Electric has already made more than $1 billion dollars selling San Diego residents' data to Wall Street.
Mara Elliott's (City Attorney) role in all of this
San Diego Charter section 94 reads "Pursuant to state law, no officers of the City, whether elected or appointed, financially interested in any contract made by them in their official capacity. Any officer who willfully violates this paragraph shall be guilty of a misdemeanor and shall immediately forfeit his or her office and be thereafter forever barred and disqualified from holding any elective or appointive office in the service of the City."
here is what the law provides:
1091.5.
(a) An officer or employee shall not be deemed to be interested in a contract if his or her interest is any of the following:
(1) The ownership of less than 3 percent of the shares of a corporation for profit, provided that the total annual income to him or her from dividends, including the value of stock dividends, from the corporation does not exceed 5 percent of his or her total annual income, and any other payments made to him or her by the corporation do not exceed 5 percent of his or her total annual income."
The section also reads that ANY contract entered into in violation of this Section shall be void. "All contracts entered into in violation of this Section shall be void and shall not be enforceable against said City." Attorney Julie Biggs calls this a criminal enterprise. Biggs notes that the San Diego city charter changed after Elliott took office, and the real issue is that it is supposed to keep officers in line and transparent in their actions on behalf of the city.
Attorney Cory Briggs, a candidate for City Attorney, told NBC 7 San Diego in October, "This was presented as an energy efficiency update to street lights," said Briggs, who's a candidate for City Attorney. "It turns out that they're gathering the data. They've been giving it to the police, but they're also [potentially] giving it to Wall Street with no constraints whatsoever. Well, that's exactly what Facebook was doing when it was giving data to big tech, so that people could take it and use it for political purposes."
Source: Katy Grimes of californiaglobe.com
Action item for this topic
Send the city council members in the PSLN committee a quick email to urge them to support TRUST SD's Ordinaces. Suggested script is already included in the form email: bit.ly/EmailPSLNmembers
Submit an e-comment to the PSLN meeting on July 15th: bit.ly/PSLNComments ( Date: 7/15/2020, Agenda Item #2 )
Suggested script (for action 2):
Please support TRUST SD's ordinances to bring more transparency & accountability & community participation. – YOUR NAME